Knight Rider, a shadowy flight
into the dangerous world of
a man who does not exist

Knight Rider - K.I.T.T.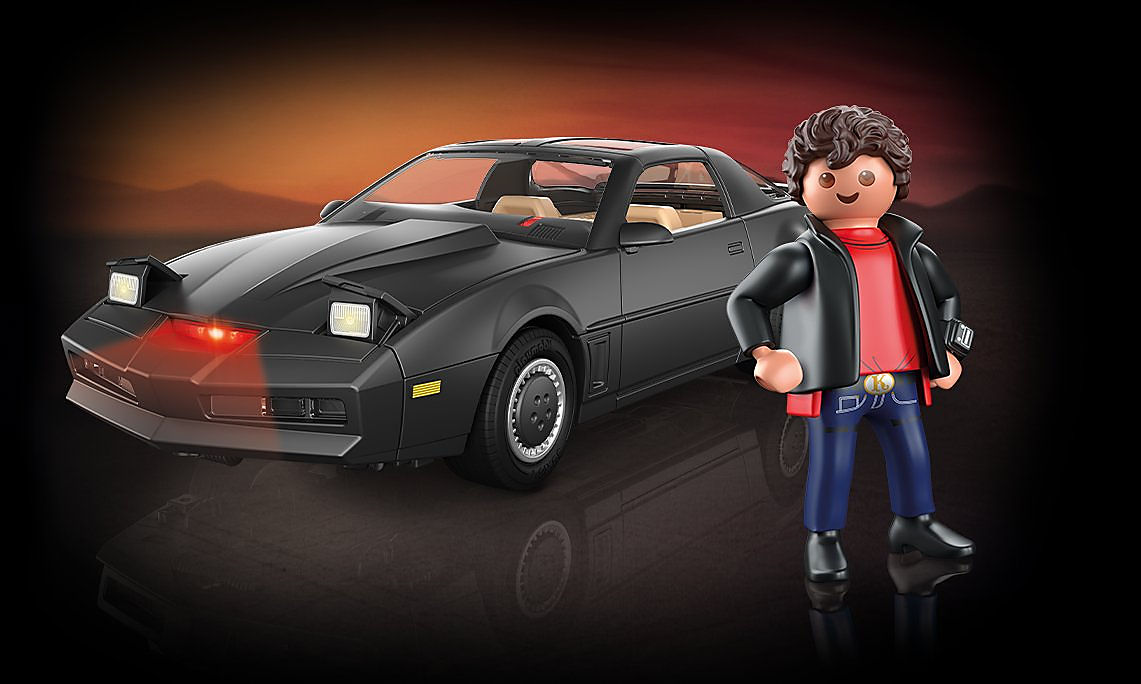 "Michael Knight, a young loner on a crusade to champion the cause of the innocent, the helpless, the powerless, in a world of criminals who operate above the law." A detective, thought to be dead, is now under a new identity. He is driven by justice and sets out to take down crime with the help of K.I.T.T., a futuristic artificially-intelligent car outfitted with high-tech gadgets and weapons.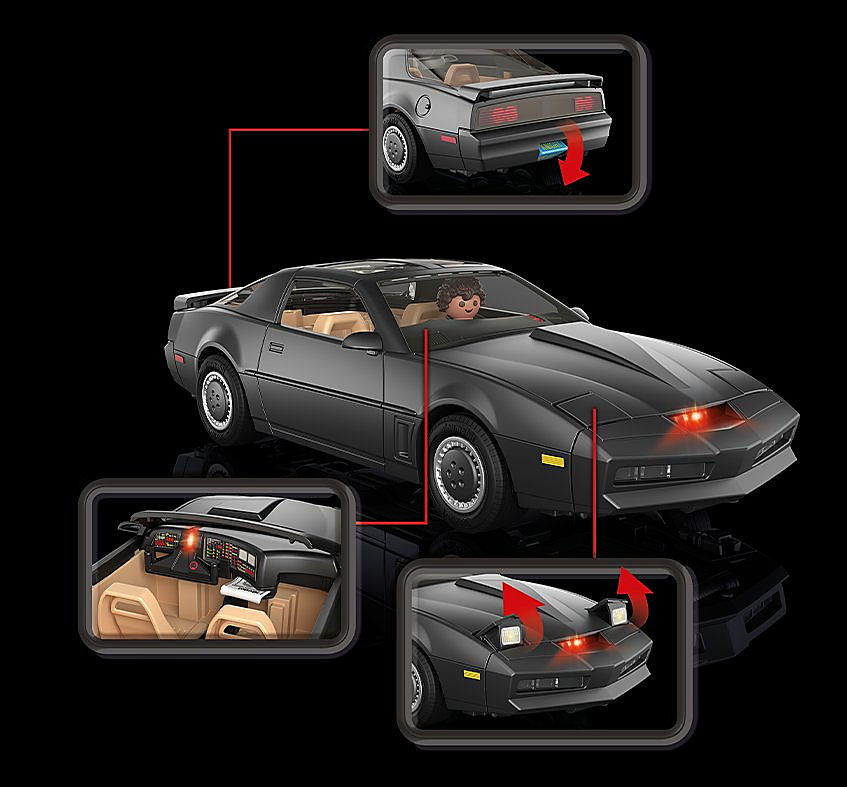 Now K.I.T.T., the legendary wonder car from the 80s hit series Knight Rider, is making its way into the PLAYMOBIL car lineup. Just like his onscreen counterpart, PLAYMOBIL's K.I.T.T. is equipped with a whole range of authentic functions, such as a printer underneath the dashboard for printing out mug shots, a rotating number plate, a cord with grappling hook, pop-up headlights, and a detachable roof. K.I.T.T. features electronic sounds and lights operated by touch-feature on the vehicle's hood. The vehicle quotes lines from the series in the original iconic K.I.T.T. voice. Certain quotes are heard with the on/off function, while others play randomly. At the same time, the iconic scanner light on the front of the vehicle lights up, and the dashboard lights flickers.
In addition to Michael Knight, the playset also includes highly-detailed accessories such as Bonnie Barstow's computer lab and Devon Miles' office furniture. Now, it's time to get in the car and drive off to the next mission!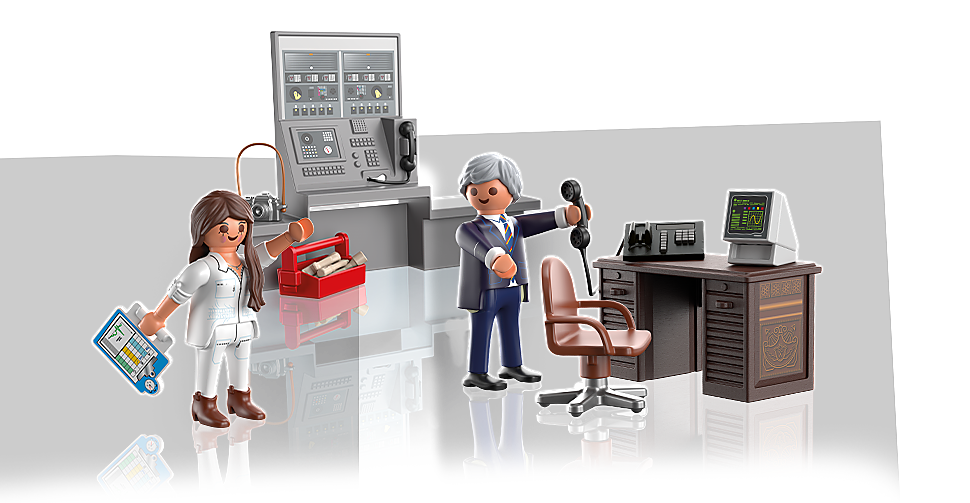 - With Michael Knight, Bonnie Barstow and Devon Miles
- The vehicle interior has seats for up to 4 figures
- Detachable roof
- Rotating license plate
- Pop-up Headlights
- Includes cord with grappling hock that can be attached to the rear bumper
- Highly detailed accessories include Bonnie's computer lab and Devon's office furniture
- Tapping the ventilation inlet once triggers the greeting sequence.
- Each subsequent tap activates one of six electronic feature sequences with lights and sounds.
- By actively switching off (press and hold) or after 60 sec. of inactivity (Auto Power off), the farewell sequence is activated and all sound and light functions turn off.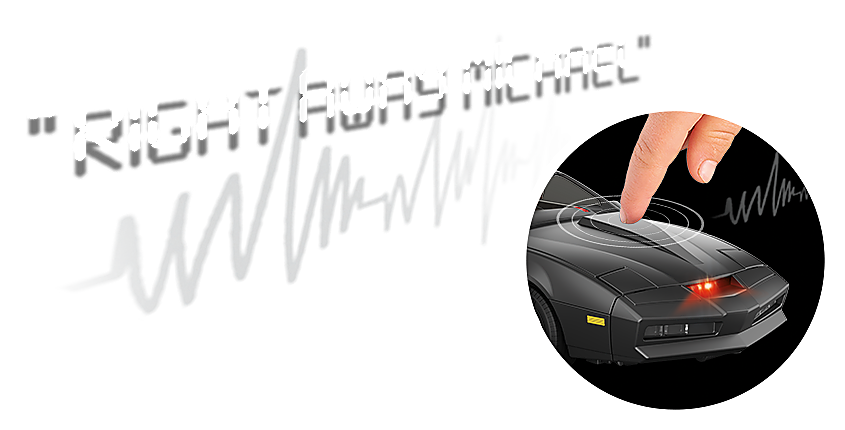 K.I.T.T. – The Original


Length: 16 ft
Height: 4.3 ft
Weight: 2864–3666 lbs
K.I.T.T. - The PLAYMOBIL version


Length: 11 in
Height: 3 in
Weight: 1 lb
The design of the PLAYMOBIL K.I.T.T. is faithfully based on its prototype and in a scale of approx. 1:17.
Facts about the TV series
Did you know that...
... the series theme music is an adaptation of an 18th century ballet score?

... K.I.T.T. was driven from the back seat or towed by a tow rope in the scenes where it was driving alone?

... up to nine vehicles per season were wrecked during filming?
© Universal City Studios LLC. All Rights Reserved.